Supply Line Logistics
STRANG provides project-specific, engineered supply line structures to the resource and energy sectors, especially to remote site operations. These supply line structures provide regular, dedicated and "fail safe" delivery of consumables and all required supplies from worldwide locations through to on-site warehouses.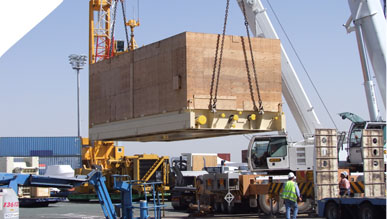 Services include:
Off-site consolidation depots
Expediting
Freight forwarding
Cargo tracking and tracing
Warehousing
Road, rail, air and ocean transport
Strang Global Logistics Management System
Our in-house award-winning computer system, the STRANG Global Logistics Management System (GLMS), underpins our Supply Line Logistic operations. It is designed specifically to receive, manage stock, consolidate cargo for shipment, track and trace, as well as create all export and commercial documentation. Uniquely, STRANG GLMS can also create all import documentation for clearance of goods at the inbound port of cargo receipt.
GLMS Awards

Lloyd's List DCN
Australian Shipping & Transport Awards

Papua New Guinea
Chamber of Mines and Petroleum
Case studies